People: Organisation Planning
Developing an Organisation to Enable Your Business to Grow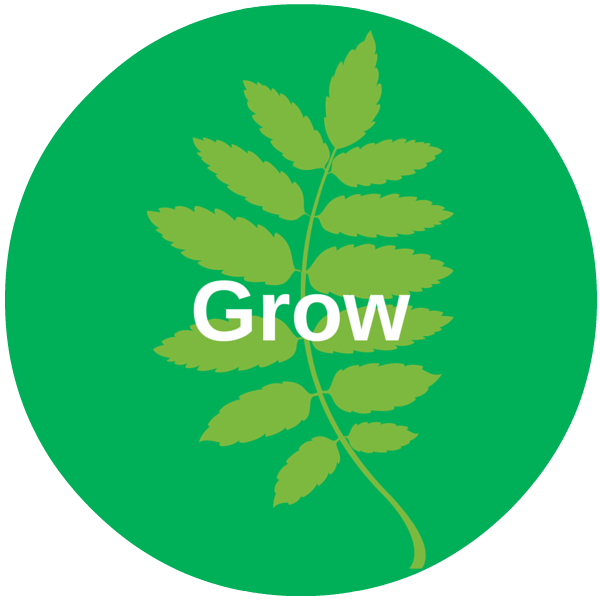 From humble beginnings:
Often the business starts with just the founder and perhaps an assistant. As the business grows, new people are brought in and they start to cover more and more roles. Often this results in a lack of logical organisational structure. The founder then becomes the glue in the business and a vicious circle commences. Everyone reports to the founder – no one really develops or 'steps up'. This means everyone is dependent on the founder – everyone reports to the founder, who just works harder.  Before then burning out.
Getting clear about the organisation structure of your business is fundamental to growth and long term survival.  Put another way, you need to be absolutely clear on who's supposed to be doing what in your organisation and who makes sure they're actually doing it.
This is a critical part of evolution and requires courage and clarity. Courage, to invest and delegate. Clarity, to ensure that your expanding team knows their role and what is expected of them.
Developing your organisation:
Structuring your business requires some clear thinking up front and needs to be grounded in roles (i.e. what people should be doing). Rather than personalities (who you happen to have).  This is especially tricky where you have personalities that are covering multiple roles because of how the business has developed informally over time.
Our top five principles to remember when thinking about your structure:
Roles not personalities. Focus first on what needs doing, then consider who should be doing what.
Logical portfolios of responsibilities. Each role should be a logical and sensible collection of responsibilities that are similar in terms of their function, knowledge area and seniority.  This makes it much easier to find, recruit and manage whoever ends up fulfilling the role.  You wouldn't have your accountant in charge of making tea for example; so don't expect your office administrator to run the sales force in their spare time.
Spans of control. Generally a manager will struggle to effectively manage more than eight people if they are doing the job properly. If a role has more than eight direct reports you probably need to reconsider – that goes for the MD too!
No one should mark their own homework. For example: whoever writes the cheques shouldn't sign them. The same principle applies to anywhere where there should be review and challenge in the business.
Structure will be a big driver of culture. There is no right answer to this, but be aware that the structure will play a big part in how people work together and communicate within the organisation.
You can visualise your organisation's structure using an organisation map or organogram; a picture of the roles / positions, people and how they interrelate in the business which can be drawn to represent the present as well as what the future state.
It identifies a hierarchy (though not the informal structure). The management team and individuals working in business, usually grouped into "departments".
An example of an organogram is shown below: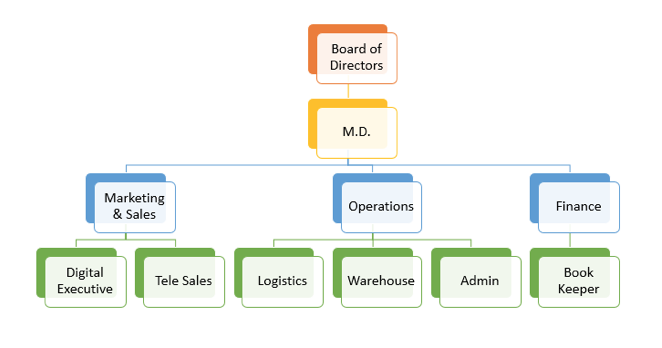 Job Descriptions ("JDs"):
Once you have developed an organisation structure, you need to develop job descriptions for each of the roles. You need to know what each role is for; why it exists, who it reports to, principal duties and the key deliverables.  The job description is helpful in evaluating whether you need someone full-time or part-time. It is also a key part of the recruitment process as it will form the basis of any advertisements or the brief to recruiters.  It can also be used to present a clear picture of the job to applicants.
The job description will also play an ongoing role in evaluating whether an employee is meeting the expectations you set for the role. Whether or not your people deliver will ultimately determine the success or failure of your business. Job descriptions are critical in making sure your people know what they are supposed to be doing and enabling you / managers to objectively appraise and develop their performance.
A good job description with clearly defined responsibilities and KPIs therefore enables four key things:
Gives employees visibility of company goals and how they fit into the picture
Creates focus through clarity of what is important and what will be monitored and measured
Enables individual performanceand co-operation between employees; every individual knows what is expected, and who they need to work with
Provides accountability with each team member understanding how their performance will be measured
Establishing Pay:
Once you have your organisation map and role descriptions you are able to determine what you will need to pay each person. Start by looking at market-related rates. Pay comparisons can be found online and allow you to look at your area, industry, functional area of role (e.g. sales, marketing etc.), level of seniority, qualification, who the role interacts with, degree of authority and autonomy etc. Be aware that comparisons are only a guide and it is quite normal for a role to have a fairly wide range of potential salaries and benefits associated with it.
A key determinant of the amount your business will offer will be based on what it can afford. But there is a health warning here. Don't expect to hire a competent senior manager with your level of drive and commitment for peanuts. Especially on the basis that it is all you can afford.  One of the biggest pain points for businesses is mismatched expectations between owner managers and their staff. Often they expect their staff to be all-singing-all-dancing heroes. But find that the office is empty at 17:01.  Clarity of structure and roles is key to hiring the right people to do the right job.
In Summary:
Employing people is an essential part of most businesses achieving their vision. It is also a huge source of angst and a significant pain point. A well thought through and structured approach is vital to getting it right from the beginning and relieving the stress!
To assist you we have developed a helpful download. This provides an example job description template that you can customise yourself and helps you to think about the job roles.
As ever, if you would like help or outside perspective on your business, book a free business help session here.