Prepping a Board Meeting
How hard can it be?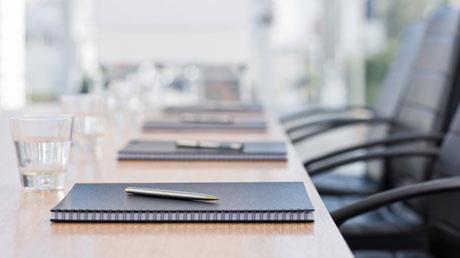 Organising a board meeting would seem to be a routine task; prepare an agenda, assemble minutes and reports from management, identify the decisions the Board must make, assemble all the pre-reading and get it to the Directors at least 5 days in advance. How hard can it be? Easier said than done but by no means impossible…
Here are our 8 top tips for prepping an effective Board meeting:
Appoint a Chairman whose role it is to own the agenda and process surrounding the meeting, and guide the meeting through the agenda ensuring that items are properly discussed and agreed upon and that the meeting keeps to time and purpose.
Appoint a Secretary whose role it is to assemble and distribute all of the reports to the Board at least one week before the meeting and take the minutes at the meeting.
Establish the schedule of Board Meetings months in advance and the supporting calendar of events (see our previous article

"What should be on my board agenda"

and download our complimentary

"Board agenda planner"

which will help plan this). This will help ensure meetings happen and that the right people are able to attend.
Specify the form and content of supporting papers required for the meeting. For example, your financial results, operational KPIs and papers requiring Board decisions.  This way, your staff will know what is expected and by when each month in order to support the meetings.  We're very happy to help with this – if you would like some pointers, just book a free business help session below.
Pre-circulate all the relevant information at least five days ahead of the meeting. A 'Board pack' will almost always include:
The agenda for the meeting (Download our free template here)

Minutes of the previous meeting for approval

Draft financial statements and key performance metrics

Draft resolutions for matters to be discussed at the meeting. Resolutions circulated in advance will clarify the precise subject matter, facilitate discussion and simplify the preparation of minutes.
Focus on the information that you have and use it to make decisions. Avoid the 'paralysis by analysis' trap where Boards use information just to ask for more and more of it.  There is obviously a fine balance to be struck here, but being aware of the potential danger of avoiding decisions is half the battle.
Determine clear actions with owners and due dates. Make sure that they are adequately captured in the minutes (see our next article on meeting follow up and its free download).
Distribute the minutes within seven days of the meeting whilst the meeting is still fresh in attendees' minds. This also enables people who didn't take their own notes in the meeting (naughty!) to be reminded of their actions. And get on with them in a timely manner.
Need Help?
Like most other aspects of business, running an effective board is about knowing what 'good' looks like. Then putting sufficient management process in place to make sure that it happens properly.  If you would like help to get your Board working effectively for you, book a free business help session!